ASIAN COLLEGE OF TECHNOLOGY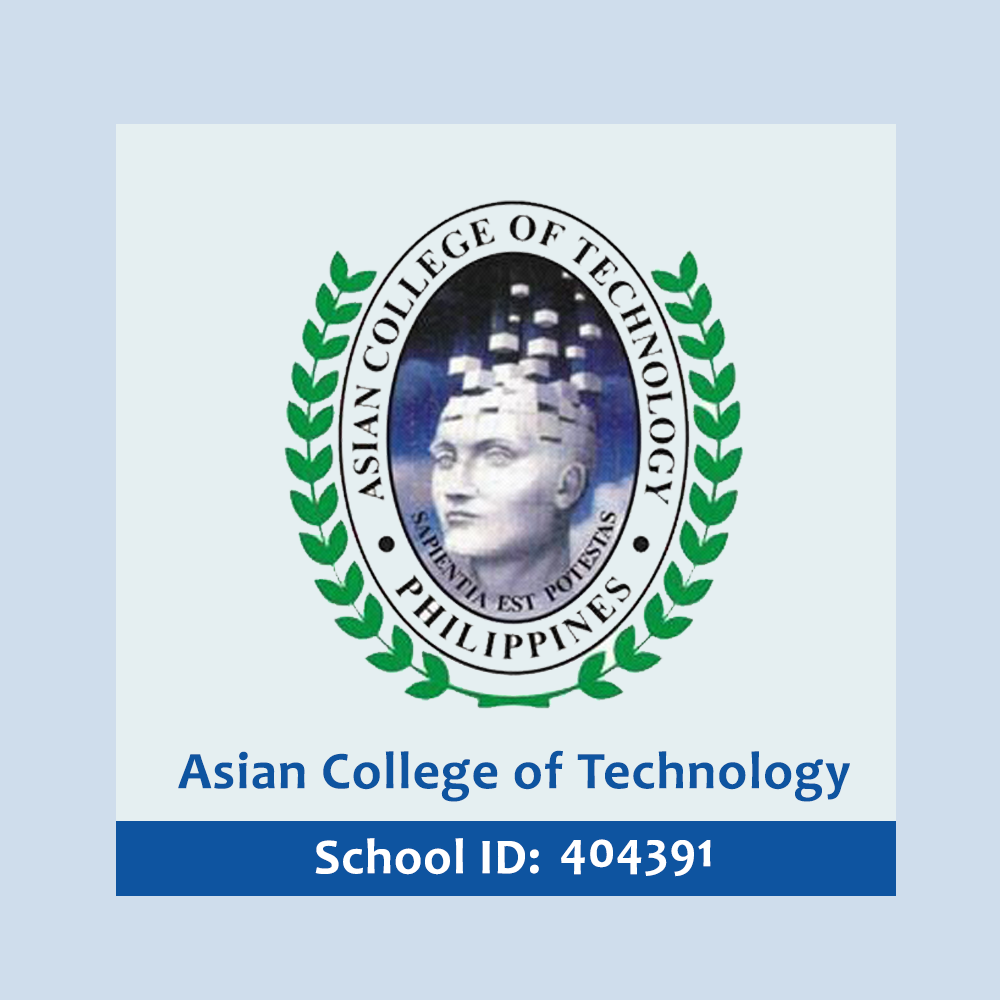 Asian Computer Institute (ACI), the precursor of Asian College of Technology (ACT), was established on September 19, 1988 in the busy street of historic Colon at the heart of the booming City of Cebu. Under the unrelenting leadership of its hands-on founder Rodrigo A. Abellanosa, the Institute blazed its way to become the primary provider of computer literacy of the corporate workforce in Cebu and nearby provinces which at the time were only starting to embrace the use of computer technology in the offices.
The school was incorporated on May 14, 1992 as Asian College of Technology, Inc., paving the way for the offering of post-secondary and collegiate courses that pioneered on hands-on oriented computer science curriculum.
Asian College of Technology expanded its educational programs to the south of Cebu and Cebu City with the establishment of ACT-Bulacao Campus in 1992. At present, the Campus hosts the Integrated School composed of students from Preschool to Senior High School.
The ACT Integrated School (ACT-IS) was established in 1994 to seamlessly integrate the preschool (playgroup, nursery, and kindergarten), grade school and high school curricula in order to promote a progressive, advanced and holistic development of the child. Effectively adopting the Multiple Intelligences approach that is tightly hinged on a strong character foundation, the ACT-IS has been consistently and meticulously faithful in its avowed mission of providing quality education to the Cebuano community.
In 2007, ACT reached greater heights with the construction of a half-billion-peso, 15-storey building aptly called the ACT Cyber Tower. Powered by the technology of the future, this new home of ACT Cebu City Campus is the most modern educational infrastructure at the hub of the bustling Cebu City.
In 2009 ACT established the CISCO Network Academy with De La Salle University as its regional academy head. A specialized CISCO Laboratory was put in place and the standard CISCO training program was incorporated in the curricula of Information Technology and Computer Science programs. In 2010, the Innobento Animation and Game Development Laboratory was established in partnership with UA Asia, a Japanese company, to train teachers and students advanced animation and game development techniques. In March 2011, ACT concluded a MOA with Nexus–Net Fiber Optics Incorporated to Jointly Establish the Fiber Optics Training Center for FOA Certification (FOTC-FOA).
From its inception as a purely computer school, ACT has diversified its curricular offerings to include BS in Computer Science, BS in Information Technology, BS in Information Systems, BS in Computer Engineering, BS in Hospitality Management, BS in Tourism Management, BS in Business Administration, BS in Nursing, Bachelor of Secondary Education, Bachelor of Elementary Education, Associate in Computer Technology, Computer Technician Course, Diploma in Practical Nursing, Certificate in Caregiving, and complete Basic Education Programs.
ACT's mission of developing highly competent and globally competitive individuals has been validated by being awarded by the National Council for Product and Service Quality as the Best Computer School-Metro Cebu in 2005, 2006, 2007, 2008; the Best Computer School-Visayas in 2009 and the Best Computer School-National Level in 2010.
In May 2014, the Federation of Accrediting Agencies of the Philippines (FAAP) granted ACT Candidate Status for its Elementary, High School, and Nursing Programs, and in January 2015 for its Hospitality Management and Information Technology programs, for satisfactorily meeting the standards and fulfilling all the requirements of the Philippine Association of Colleges and Universities Commission on Accreditation (PACUCOA).
Certainly, ACT has come a long way in becoming a leading educational institution in Cebu and nearby provinces.
VISION
Asian College of Technology International Educational Foundation is a dynamic educational institution with esteemed professionalism committed to develop highly competent, globally competitive and socially responsible Asianistas.
MISSION
To offer relevant and value-laden educational programs, embued with learning opportunities and experiences, responsive to the demands of the local and global communities, geared towards the holistic formation of Asianistas.
CORE VALUES
Adaptability.

 The ability shown by Asianistas in positively responding and adapting to changes.

Service.

 The willingness to share one's talent, time and resources for the common good.

Industry.

 The commitment to be always diligent and hardworking in all academic endeavors and other undertakings.

Achievement-Oriented.

 The skills and endurance to set and meet high standards of accomplishment.

Nurturance.

 The zeal of Asianistas to care and empathize for others.

Innoventiveness.

 The desire to invent and innovate new systems, technologies, ideas, methods and concepts.

Self-Reliance.

 The ability of being responsible, independent and open minded in making decisions and in getting things done.

Teamwork.

 The collaborative effort to work efficiently and effectively in order to achieve the desired goal.

Accountability.

 The obligation and commitment of every Asianista to be always responsible of his words, deeds and actions.